12 May

Know Thy Neighbour

I have lived in Mumbai for over a decade now.

Something that I noticed right in the beginning, and have not seen change since then, is the way we live as strangers in our housing societies. I have often come across a complete stranger in the elevator and I discover that he/she lives in the same building. Isn't that sad ?

In today's networking culture, where we easily convert strangers, even those across seas, into friends on Facebook, Linked In and Twitter etc, we do not know our own neighbours. Our immediate neighbours are the ones who play a vital role in building our social fibre. They are the ones who will stand by us in case of need or emergency. I have always felt the need of knitting the residents of a society into a strong social bond.

"Knowing and understanding each other" is a strength that is seldom recognised and acknowledged. It is so powerful. You can leverage on the strength of all who live in the vicinity and use it for professional, personal and social benefit.

Imagine what happens when I run into a medical emergency. In panic, I call all over. I go to Saint "Googlacharya" or "Uncle Just Dial" because I did not know there is a doctor on the 14th floor of my own building ! or in another Tower of my society. Or even across the road in the next society.

In the good old days we lived in a "mohalla" concept. Everyone knew everyone. In the village we used to gather in the evening for a "Town Hall." Social media converted all this to a "Global mohalla" but somewhere we lost sight of our roots. We can get the best of both if we just awaken to this idea.

Yesterday, for the first time, I managed to make a small beginning. We took a baby step. We managed to collect 25 children of our society for a "Fun Camp." We organised a simple but effective, low cost event, to let the children have fun and "know each other" better. It has worked wonders. It is my strong belief that now the parents of these children will also 'bond' and get to know each other. Thanks to Mehul Nisar and his wife Sheetal for the unstinted support.

What we did was so simple.

Notices were put up on the notice board 2 weeks ago

We had close to 25 registrations.

At 6 pm the children gathered. They were formed into Teams and given a sticker on which they wrote their names, artistically. Then we engaged them in an ice breaker where they got to introduce themselves and know a lot more about each other than they knew before.
Knowing each other better
We then got them to play a game called "Frenzy." They had lots of fun. And, along with fun what they learnt was "Collaboration." With this activity the message that was clear was of Abundance in the Universe. There is enough for everyone. We live in a "Win-win" world which is mistaken to be a "Win-Lose" world. Not that the children will not compete, but they will not compete whee collaboration may be a better option.
After Frenzy the children were allowed 45 mins in he swimming pool.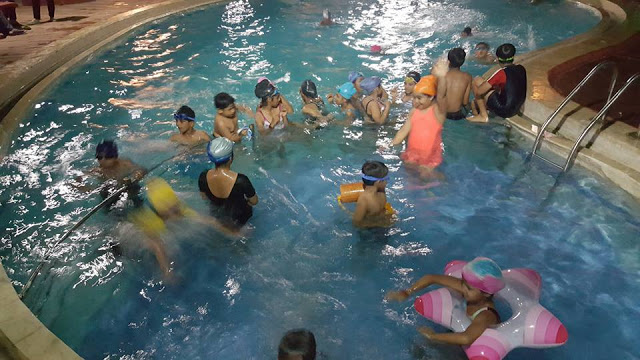 A gala time in the pool


It was time for food. Children brought food from their homes and had a community dinner
And then came the time for the Grand Finale. Get Twenty. An activity the all said they enjoyed. They were formed into 3 teams. The names the gave he teams were -Funny Bunnies, Funky Monkies and Impractical Jokers. They were to get twenty items in twenty minutes. They had great fun. Besides, they understood some basic elements of Planning, time management, resource management, team work etc.
The best part was the parent's participation. They also enjoyed the activities. Maybe they picked up a few lessons too.