01 May

Book Launch of my first IMPERFECT Book @Bangalore

How I wrote my first imperfect book, and how you can too

Thoughts before the official launch of my book
Design Your Life in Bangalore on Tue 2 may 2017  at 5:00 pm at
Sapna Book House, Residency Road, opp Gateway Hotel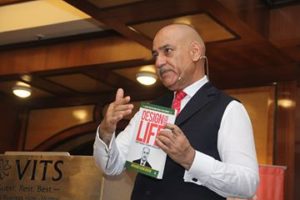 May 1 Monday, BANGALORE: Today, as I prepare to launch my first book in Bangalore on 02 May at the Sapna Book House, I look back at how my first book Design Your Life, now on sale on Amazon, Flipkart and scores of other online platforms, got written, and I have but one answer – I engaged an author coach.
Every champion needs a coach. Every Champion has a coach.
In fact, it is close to impossible to become a champion unless you have a coach. The fact that world's most successful transformational coach and my guru, Tony Robbins,  has not one or two but five or six coaches should tell us something.   
It has been over 40 years since I first dreamt of writing a book. It was a coach Gerry Robert, who, in 2005, in a Tony Robbins seminar, in Singapore, rekindled that desire to be an author.
To all excuses from the audience for not writing a book like poor command over English, poor knowledge, lack of discipline and ignorance of subjects like structure, narrative and incomplete grasp of one's domain, Gerry has an answer that resonated with me "you all are waiting to write a perfect book," he said. Start to write your first imperfect book.
Yes, it is okay to be imperfect and it is okay to write an imperfect book.
"If you wanted to write a book, why haven't you written one? What stopped you?"  was his question.
Fired by Gerry's prompting and in line with Tony Robbins advice to strengthen one's resolve by committing oneself publicly to a goal, I declared to the world through Facebook that my first book would be published by December 2005.
And being a man of my word, my book got published way before December 2005 – IN MY HEAD.
My wife, likes wives are wont to, asked me about my resolve.
"Where is your book?" she asked.
I pointed to my head and said, "It is all up there."
"Yes. Of course," she smiled.
Not a nice feeling at all, ladies and gentlemen.
Then came May 2016.
This was when I was knocked off my feet by an encounter with Satish Purohit my book-writing coach. I found Satish to posses tremendous clarity on the subject of writing and books, which enabled me to write my book in three months flat. More importantly, not only did he refine my writing and story telling skills but he PUSHED me to write daily. "Like you build your physical muscles in a gym, here you need to build your writing muscles," he reminded me every time when my daily task of writing 1000 words was not accomplished.
It helped that he charges a fraction of what Gerry Robert does.
My friend Gurinder Singh Bajaj chipped in with his heart, mind and soul with the design, concept and layout of the book. My entire family supported me. Aneesh, my son, insisted on shooting the 'right' picture for the cover, which he did.
In short, with the support of family, my friend Gurinder and my writing coach Satish Purohit, a 20-year-old dream became a reality for me.
What made me write the book?
The seeds of this book were sown on the soil of Army Public School, Bareilly, in 2002-2004 when I was appointed as the Chairman. My involvement with children with a commitment to accept ownership of their career progression, showed my a different path that led me to dedicate my life to empowering and grooming the future generation.
Why Design Your Life?
Interacting with about 25000 children, 160 Principals, over 3000 teachers and God knows how many parents I had identified the large gap between what a parent thinks his / her child needs and what the child thinks he / she needs. The present environment offers far too many options to children, resulting in confusion with the overload of information and choices.
Who should read this book?

Students in senior classes in schools, college students, professionals who are still in the settling down phase of their career.
Anyone who is not too happy with the chosen career and is looking at a career review.
Teachers and Professors who like to enhance their awareness levels of their target audience.
Parents, who need to support their children in identifying their strengths, help them discover their passion and support them in shaping their lives as they want to live.
Mission to Million
This book is a mission. A mission to have ONE MILLION children read this book in 5 years. I aim at impacting as many students and parents as I can but surely transform atleast 1000 lives!
Book Reading and Launch at Bangalore
The book is aimed at students who want to shape their lives. It aims to inspire children to live a life that matters, a life that is focused on setting clear goals, drawing simple road maps and getting desirable results effortlessly.
It is also designed to help parents and teachers guide children to a space where they can make their own decisions. The book sheds light on telltale signs that reveal that your kids are not sharing everything with you.
It also addresses those 70-80% adults who are not in the right job / profession. This book helps them review their life and adopt corrective measures, if necessary.
So come and get to know more about this book and let me have the pleasure of personalising the copy you buy for yourself, your children, your students or a gift to someone you love.
Where is the book available?
The book has been priced at Rs 299 and will be on sale at Sapna Book House, Residency Road, Bangalore. 
It can also be ordered ONLINE on :-
Notion Press Store
 https://goo.gl/LO1vTj,
Amazon
Amazon.com https://goo.gl/7j1pCj

Amazon UK https://goo.gl/XhaQt1
Amazon kindle https://goo.gl/UNC77C
Amazon.in https://goo.gl/axvtnw
Flipcart
https://goo.gl/y06bmJ
Kindle
https://goo.gl/UNC77C
Paytm
https://goo.gl/apxIX4
Looking forward to seeing you
Sushil