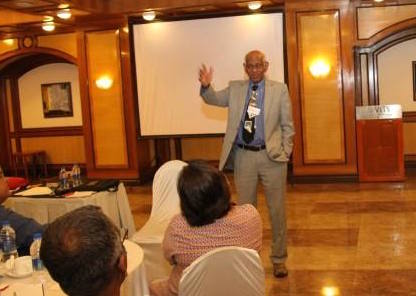 24 Jan

10 Gems I picked up from Thiagi

For over two years I have heard of Thiagi. I visited his website and started admiring him for his valuable contribution to the field of Facilitation.

What did I perceive of Thiagi ? A dynamic, energetic, facilitator, who will be loud and aggressively passionate, displaying his collection of impressive, colourful Faciltation tools and aids beyond our favourite multi coloured paper slips etc.

As I entered the hall I saw Thiagi posing with some people for a pic. I joined in too. Thats an opportunity, I thought. Little realising that he was more than willing to pose with any number of facilitators any number of times.

1. You need to develop your own unique style and need not copy or imitate anyone. Thing is so simple, humble and full of humour. He is soft, but effective to the last word he utters.

2. There is no need to prepare. Just show up. Go with the flow. Lets an activity not be an 'excuse to debrief.' I was reminded of a book I picked up at the AEE International Conference, 'Open to Outcome.' No need to be structured by preparation. I guess that happens only after experience. I liked when he said that he had done no preparation for this session, but he had prepared for it for 40 years. Yes. When a client asks why he needs to pay so much for just an hours session, I say the same thing. Its my 45 years of experience and preparation you are paying for and not the 60 minutes of 'presence.'

3. Facilitation is a serious subject. yet it does not demand seriousness. Do serious things playfully and playfull things seriously. Indeed a great takeaway for me.

4. The uniqueness of the process 'Structured Sharing' or 'Maximum 35' is established by the fact that the focus is on the 'idea' and NOT the 'author.'

5. The drum roll added the fun element as also energised the room. Also invites attention of the room and cheers up participants.

6. Using available paper and resources in the room, no fancy colour papers or Sticky walls or Flip charts adorning the walls was also a deviation that left me with an awe! When we don't have resources one can really improvise.

7. Learning happens on reflecting on an experience and then sharing it with others.

8. Auction of Rs 1000 was an interesting activity. He started the debrief by asking a simple question. "How do you feel?" The answers descried the crux of the activity. Fooled, Curios, Puzzled, scam, confused, relieved. Emotionally driven adults probably ignore logic and rationale. They sometimes make a fool of themselves and like to see other people making a fool of themselves. They also rationalise and justify stupid actions.

9. The Card activity, He had hidden a card. He, then asked a participant a series of questions which led to the participant asking for the card. That happened to be the card hidden. A brilliant activity to explain how a facilitator needs to manoeuvre his questions to lead to a desired outcome.

The one minute clap activity brought out a simple lesson. People do what you do and not what you say (or they hear).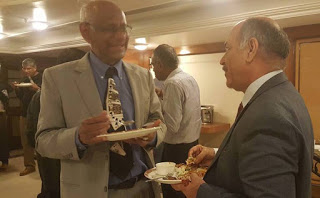 My Blog Post published by Mumbai Messenger